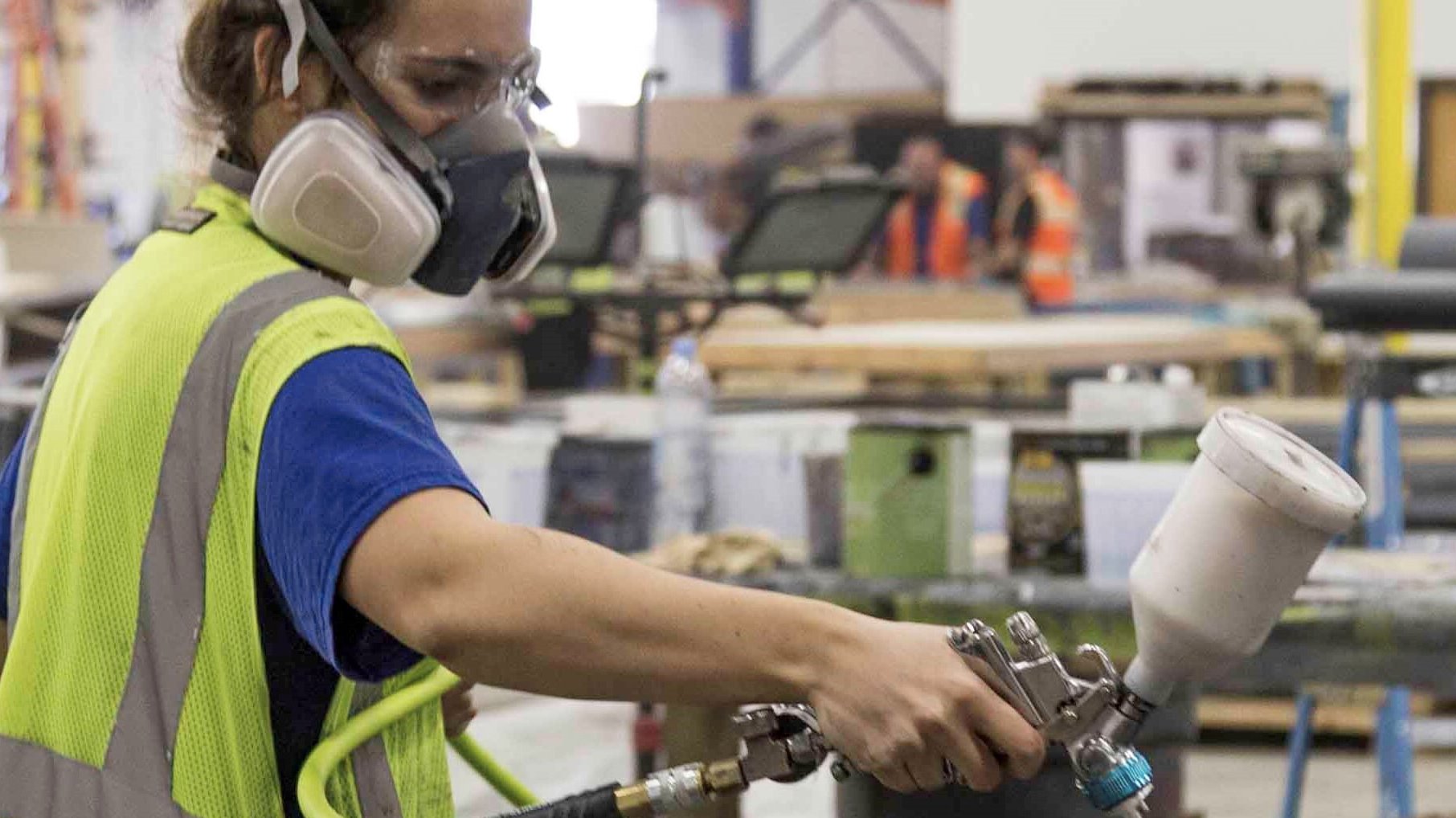 Hennessy Luther ('14 Sculpture)
Scenic Painter
Hennessy is the lead scenic artist at Scenario. She creates the processes for faux finishes and does touch ups on site. 
"It's funny when people ask me what I do because when I say scenic painter people think I paint landscapes. I usually just explain how I paint things you see at the Disney and Universal theme parks."
How did you get into scenic painting? 
I started out as a metal fabricator at Design Communications Ltd (DCL). I got my welding certification and worked on a team deciphering blueprints. At the time I was the only female fabricator. Someone knew I had an art degree and needed some help in the scenic paint department. I fell in love with the job! I enjoyed welding and building but my eye for color took me on the path of scenic painting. At KCAI I was always interested in learning new processes and now I've found a career where that's all I do. After I left DCL, I went to Scenario and the projects became more elaborate. I wasn't just working on small pieces, I worked on whole sets on Disney and Universal rides.  
What are some of your favorite projects?
At DCL I traveled a lot and got my first taste of working on Disney property. I projects at Facebook in Austin Texas, Houston Airport, Newark Airport, Miami Zoo, Pandora at Animal Kingdom, Toy Story at Hollywood Studios and more. 
At Scenario I enjoyed working on Star Wars Rise of the Resistance. I spent months on site working on multiple scenes. I've been in the industry for six years and my favorite project is Remy's Ratatouille Adventure at Epcot where I worked on the pantry room. I spent a year painting a 30' ham, two 20' fishes, salamis, grapes, lemons, limes, oranges, crates, baskets, jars and more! It will open this fall as part of Walt Disney World's 50 year anniversary.
How did your time at KCAI help prepare you for your career?
From the classes I took to the mentors that surrounded me, KCAI gave me the confidence to trust my creative instincts and be able to problem solve on the spot. 
Are there any instructors at KCAI that had an influence on your work?
All my teachers in a way taught me something that I still look back on throughout my career. 
Do you have any advice for KCAI students?
Try something new! It's easy to stick at what you're good at, but this is the time to explore. There have been times where I've used things I've learned from my electives classes that I thought I would ever use. 
"Try something new! It's easy to stick at what you're good at, but this is the time to explore."