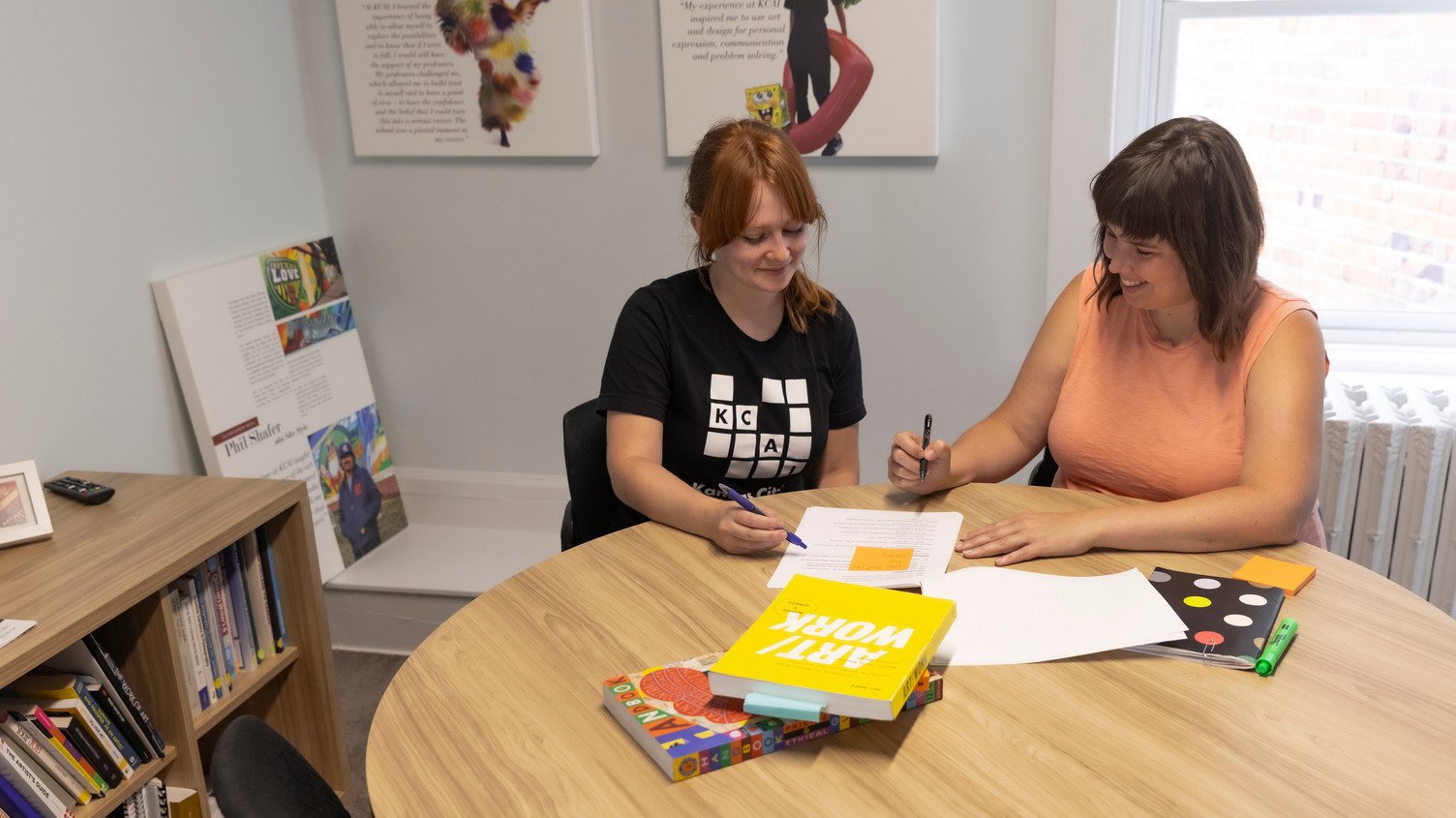 Professional Practice Center
The Professional Practice Center (PPC) at KCAI works with students to achieve their career goals. Learn how the PPC can help you prepare for a successful career in any field, and access the Professional Practice Portal to explore internships, job opportunities, and more.
Careers in The Arts
Graduates of KCAI are working in a variety of industries and doing big things. We love hearing from alumni about how they are putting their artistic skills into practice. Many are already making a name for themselves in their various artistic disciplines.
Career Advising
Let us help you meet your goals.
There is no set formula in seeking employment or navigating ones' career goals. Every person's interests, skills, and criteria are different. So the assistance we provide is refined, far-sighted, and most importantly, designed around you.
The PPC will help students develop as individuals and professionals through career advising, planning, networking, interview preparation, and more. Whatever lies ahead, one thing is certain, we are here to assist you in establishing and sustaining your creative professional goals.
Employers
Our students and graduates are uniquely prepared for the growing need for creative thinkers. They are powered by curiosity, constantly asking "why?" or "why not?" We train students to be creators, doers, and thinkers; self-starters and diligent workers so that they're prepared to take on new challenges in a variety of industries.
The Portal
Interested in connecting with KCAI students and alumni for job and internship opportunities? Sign up for a free account through the Professional Practice Center Portal powered by 12Twenty.
Submit Career opportunities, Internship Opportunities, Volunteer Opportunities, Requests for Commissions, and Freelance Opportunities via The Portal.
Partnership Opportunities
KCAI offers businesses the opportunity to partner with us to create educational experiences in the classroom for the benefit of a business's research and development goals.
Other Partnership Opportunities
We are committed to working with community organizations and businesses in ways that will provide relevant work experience to our students and create beneficial products and designs for our partners. Beyond job and internship opportunities there are other ways to partner with KCAI. Contact us at sponsoredstudio@kcai.edu or call 816.802.3527