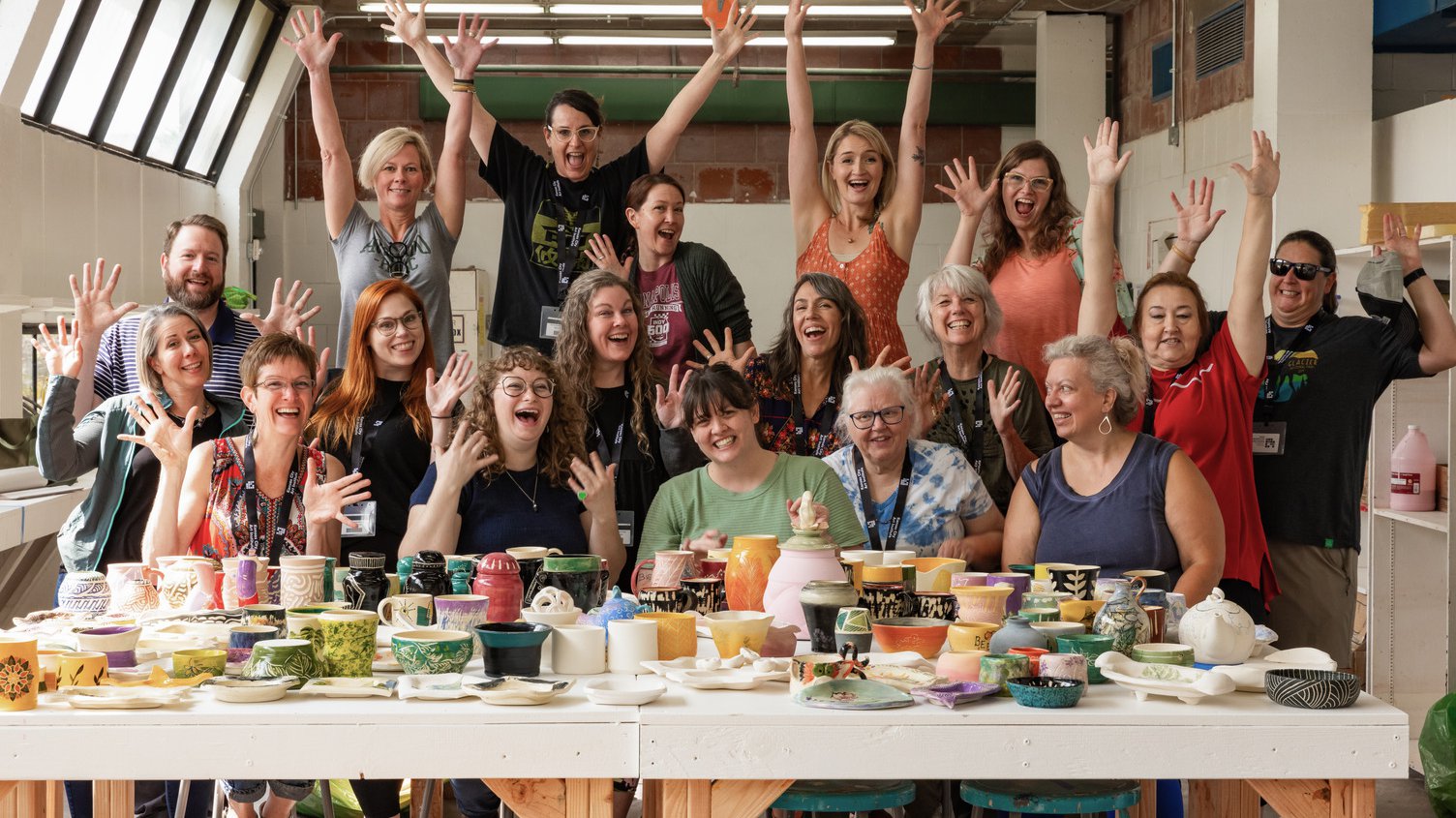 Educators ArtLab
Sunday, July 9 - Friday, July 14, 2023
While spending one week dedicated to making art, educators will network with peers from around the country, have an opportunity for special tours of Kansas City's galleries and The Nelson-Atkins Museum of Art and learn first-hand about the Kansas City Art Institute.
Studio options for 2023 are Fiber, Mixed Media, Painting, and Printmaking.
Residency Cost: $425 fee includes campus housing and meals. An additional $275 is required for residents wishing to receive two graduate-level credits for their work in the program. Applications submitted before March 1 will be considered for a program scholarship and priority studio placement.
EAL Presession: The Art of Kansas City
We invite you to join us on Saturday, July 8th for a special pre-session for art educators. After an optional breakfast, participants will join KCAI's Art History faculty for special tours of The Nelson-Atkins Museum of Art collection. We will have a catered lunch on KCAI's campus with faculty to connect and share information related to education in the arts and meet in Kansas City's Crossroads Arts District for gallery tours, including the renowned Belger Arts Center. Participants will be on their own for dinner, and KCAI staff will provide recommendations. $150, includes optional housing on Friday & Saturday nights, as well as breakfast and lunch on Friday, Saturday, and Sunday. Participants will need to provide their own transportation to the Crossroads Arts District.
Fiber
Fiber/Textile Construction: Weaving
Instructor: Pauline Verbeek, Professor and Chair of Fiber
$50 supply fee (students will be provided a list of additional personal supplies to bring)
This course has been specifically designed for educators and presents a unique opportunity for those interested in exploring the principles and potential of loom woven form. Basic weave structures as well as fundamentals of more complex patterning will be explained. A wide variety of materials traditionally used in weaving as well as options for the use of non-traditional linear elements will be covered. Participants will be encouraged to consider functional applications of woven cloth as well as non-functional approaches to woven form. Emphasis in this course will be on exploring ideas in weaving that could inform each participant's personal artistic studio practice as well as suggesting ways of introducing and integrating the concept of weaving into the classroom. All students have access to 8-Harness floor looms in a well-equipped studio.
Mixed Media
Curiouser & Curiouser: Theatre of Imagination
Instructor: David Terrill, Professor in Illustration
$30 supply fee (students will be provided a list of additional personal supplies to bring)

Inspired by cabinets of curiosities, this assemblage-based workshop will explore mixed media to create unique Theatres of Imagination. Curious participants are encouraged to engage in playful exploration using diverse art materials; found 3-D objects, collaging ephemera material, drawings, and paintings. The work is assembled in the provided wooden box, acting as the theatre, showcasing the interdisciplinary work. Brief morning inspirational presentations get ideas flowing. Participants will choose their ideas and theme(s) to explore. Technique demos will find their way into the workshop as the ideas and themes emerge.
Painting
Drawing Refresh
Instructor: Julie Farstad, Professor and Co-Chair of Painting
$25 supply fee (students will be provided a list of additional personal supplies to bring)

In this course, we will be reconsidering the basic elements of drawing through a focus on plants. In the morning sessions, the class will work from formal prompts drawn from the elements of drawing, such as line, shape, color, and value, while using an installation of plants for visual reference. In the afternoon, following a lecture and/or group discussion, each artist will work independently in their studio space, expanding their use of material and thinking about different conceptual prompts, such as metaphor, interaction, and context. As the students work independently, the instructor will meet with each student to discuss their work. We will use dry and wet drawing mediums on different kinds of paper to revive our drawing practices. Students can work abstractly or representationally throughout the class.
Printmaking
Hand Pulled Prints: To Digital and Back
Instructor: Miguel Rivera, Associate Professor and Chair of Printmaking
$50 supply fee (students will be provided a list of additional personal supplies to bring)

Students throughout the week will explore the use of laser cut plates, hand drawing and print layering approaches as initial states to compare the possibilities of different media. These works will be later digitized (photographed) and will be printed using laser toner prints, altered chemically to be printed in a similar fashion as lithographs (Gum Roll Up Transfer), and direct transfers from laser prints to archival paper. The end products will be a series of intervened drawings with digital tools and a series of traditional prints with manual and digital conception. Though participants will have the opportunity to learn basic tools in the fabrication lab such as plate laser cutting, instruction and guidance will be given in order to make these approaches feasible and accessible to any class with limited equipment and space.