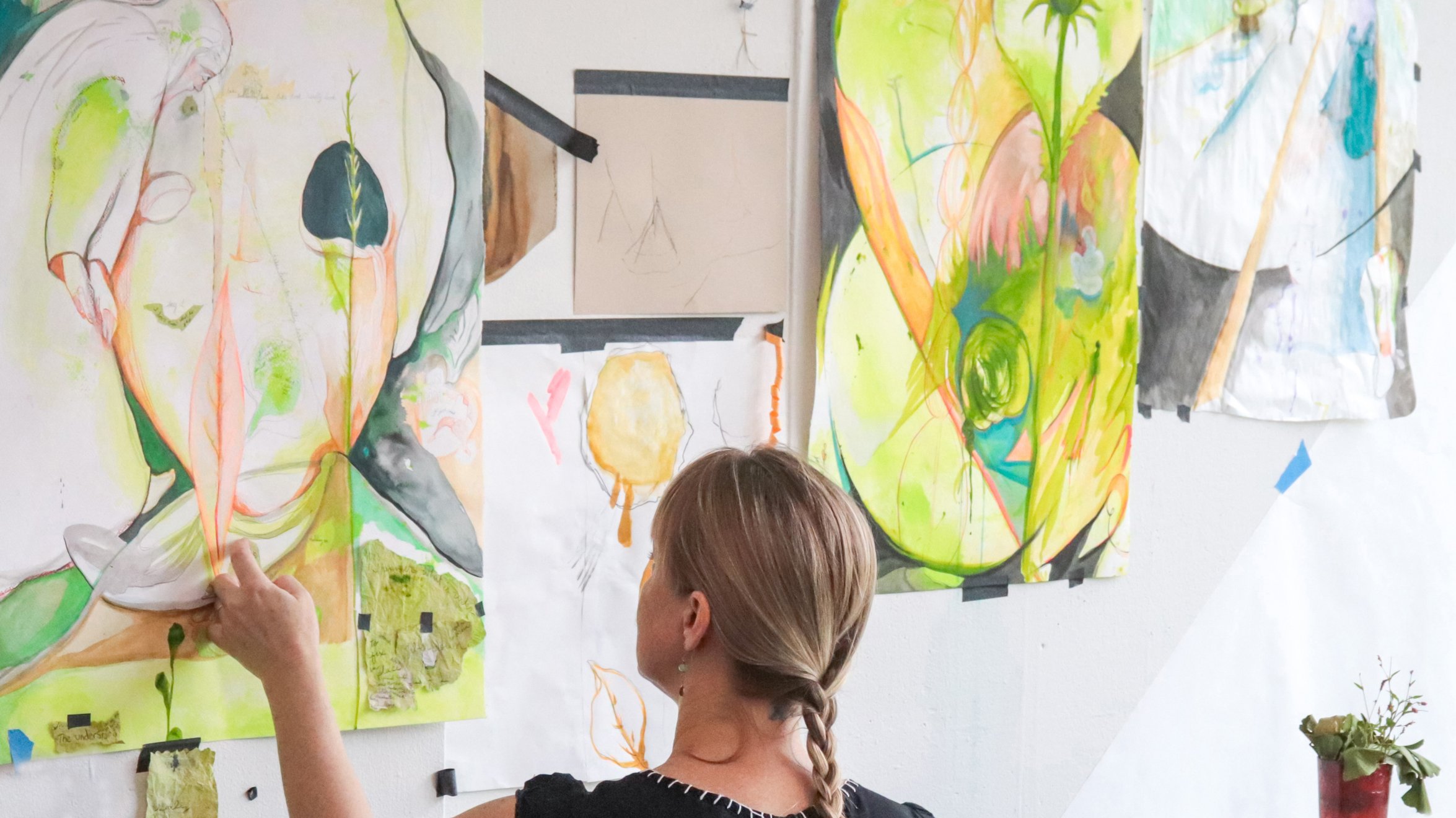 Educators ArtLab
Sunday, July 7 - Friday, July 12, 2024
While spending one week dedicated to making art, educators will network with peers from around the country, have an opportunity for special tours of Kansas City's galleries and The Nelson-Atkins Museum of Art and learn first-hand about the Kansas City Art Institute.
Residency Cost: $425 fee includes campus housing and meals. An additional $275 is required for residents wishing to receive two graduate-level credits for their work in the program.
Studio options for 2024 are Ceramics, Fiber, Painting, and Printmaking.
Applications submitted before March 1st will be considered for a program scholarship and priority studio placement. Please contact Admissions at (816) 472-4852 or eal@kcai.edu with questions.
PAINTING
Painting as Grounding
Instructor: Julie Farstad, Professor in Painting
$25 supply fee (students will be provided a list of additional personal supplies to bring)
In our fast-paced lives, we lack time to reconnect with the natural world and feel grounded to the earth. In this course, we will explore the natural sources of our art materials such as water, plants, and rocks. We will make some of our own art materials from their raw sources and look at the ways other artists use handmade materials as well. We will also use many pre-made materials, but learn about their makeup in order to engage in a kind of wonder about the world. For example, how can a drawing made with graphite evoke its origin in a shooting star? How does using a copper based pigment evoke the volcano from which it was formed? How do our art practices and materials engage in a kind of cosmic awe? Students will explore materials that inspire them, bring them awe and help them feel grounded and connected to the larger mystery of life.
FIBER
Hand Stitched: Acts of Decoration + Repair
Instructor: Kim Eichler-Messmer, Associate Professor in Fiber
$25 supply fee (students will be provided a list of additional personal supplies to bring)
Embroidery and other forms of needle arts are ancient, tactile forms of communication and care. The practice of using a needle and thread to decorate, mend, and reinforce cloth can be traced back thousands of years, with examples found on nearly every continent. While practical and rooted in sustainability, stitching can also be a form of drawing, record-keeping, and storytelling. In this course, we will explore a range of embroidery, applique, and embellishment techniques that span time and place. Each day we will encounter a new form of stitching and learn about the culture and context it emerged from. Emphasis will be placed on learning new skills, but there will also be time for play and more individual explorations of the stitching practices covered.
CERAMICS
Tablescapes
Instructor: Elaine Buss, Lecturer in Foundation
$50 supply fee (students will be provided a list of additional personal supplies to bring)
In this workshop, students will create tablescapes using both wheel and handbuilding techniques. The table is for food and togetherness; it also serves a multitude of other needs in our lives. It is a site of work, (dis)organization, and an opportunity to display beauty. We will consider the expansive potentials within this space by creating ergonomic coffee mugs, organization trays, vases, salt/pepper shakers, and other devices that amplify the potentials of this domestic plane. Unity between objects will be accomplished through surface design techniques such as underglaze painting, sgraffito, and resists. Demonstrations will emphasize techniques that are transferable to classrooms (especially ones with spatial or time constraints).
PRINTMAKING
Collagraph Images: From Photo to Image Reversal
Instructor: Miguel Rivera, Associate Professor and Chair of Printmaking
$50 supply fee (students will be provided a list of additional personal supplies to bring)
Students throughout the week will explore the use of the digital image, hand drawing and photo montages. Participants will explore surfaces, images and materiality to then be digitally documented. Physical impressions from found materials such as disposable, recycled, or artifacts will be used to create and recreate meaningful images in a printed form. These works will then be printed using laser toner, gum roll up transfer, or directly transferred from laser prints to archival paper with color separations using basic Photoshop skills. Alternate approaches will also be explored, including color, layering, photography, transfers, text, monotypes, and digital images. Instruction and guidance will be given to make these approaches feasible and accessible to any class with limited equipment and space.
EAL Pre-Session: The Art of Kansas City
We invite you to join us on Saturday, July 6th for a special pre-session for art educators. After an optional breakfast, participants will join KCAI's Art History faculty for special tours of The Nelson-Atkins Museum of Art collection. We will have a catered lunch on KCAI's campus with faculty to connect and share information related to education in the arts and meet in Kansas City's Crossroads Arts District for gallery tours, including the renowned Belger Arts Center. Participants will be on their own for dinner, and KCAI staff will provide recommendations. $150, includes optional housing on Friday & Saturday nights, as well as breakfast and lunch on Friday, Saturday, and Sunday. Participants will need to provide their own transportation to the Crossroads Arts District.