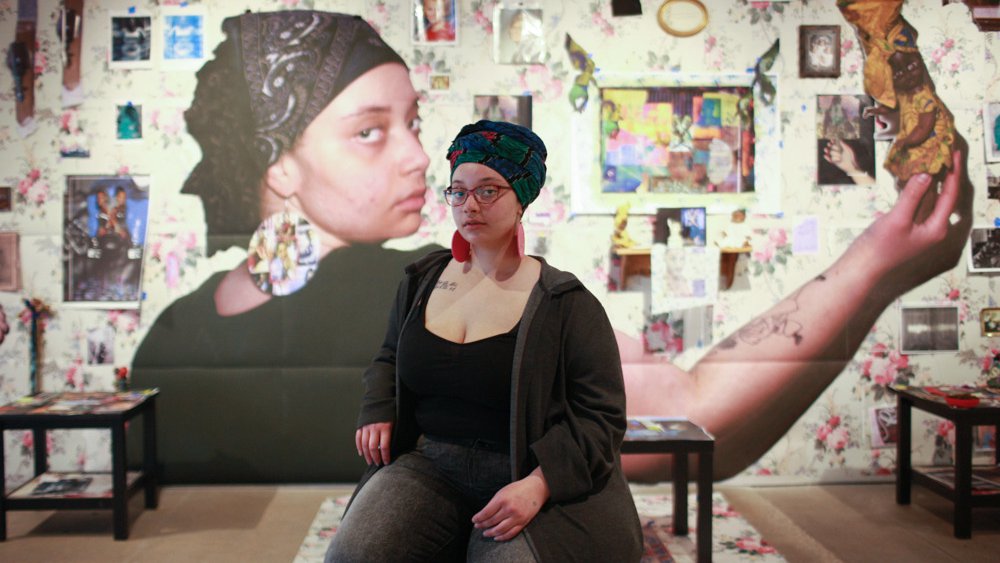 Education Opportunities
The H&R Block Artspace and KCAI Gallery serve the mission of the Kansas City Art Institute by providing extraordinary learning opportunities for KCAI students through a student work program and an internship program. Student interns and assistants are involved in all aspects of our galleries — from the inception of an exhibition's beginning to its design and installation to its reception by a public audience.
Through their roles at the H&R Block Artspace and KCAI Gallery, students gain insight and expertise that expand their educational opportunities at KCAI and an introduction to a range of professional opportunities available for them after college.
Annual BFA Exhibition
Every year H&R Block Artspace and KCAI Gallery organize and host the BFA exhibition for students graduating from the Kansas City Art Institute. The annual BFA exhibitions are among the most popular and widely attended exhibitions organized by KCAI. They are highly anticipated by the KCAI community and dozens of public tours for area high schools, community colleges, and groups from outside the region frequently occur.
The Artspace and KCAI Gallery also offer a range of professional practice programming for graduating seniors. Workshops and programs include an introductory presentation by staff highlighting past BFA exhibitions and projects, studio visits with curatorial and installation staff, and opportunities for program development, public speaking, and teaching as part of our programs. The entire experience of the BFA exhibition and related programming provides professional practice for these emerging artists and a unique opportunity to exhibit with their graduating class.
Block Internship
The Block Internship was initiated in 2004 through financial contributions from the H&R Block Foundation. This compensated internship provides the intern with the opportunity to gain critical professional experience and job skills that augment the rigorous academic education received at the Kansas City Art Institute.
It also supplies staff with support that enables the Artspace to more fully realize its mission as a unique contemporary art institution focused on both visual art and visual art education. Block interns work closely with the Artspace staff to provide mentorship to work-study assistants and academic interns. They are involved in all aspects of the Artspace's programming including exhibitions, educational and outreach programs and collection management. The experience they gain from this internship prepares them for promising futures.
Academic Internships
The Artspace offers academic internships for outstanding KCAI students. Academic interns are required to assist with various projects under the supervision of senior Artspace staff. Areas of focus for academic interns include management assistance with the permanent collection, research assistance for main gallery exhibitions and advanced administrative support including maintenance of the Artspace resource collection, exhibition archives and permanent collection files. The internship culminates with an independent curatorial project.
Interns are expected to have a strong background in art history, preferably pursuing a double major in studio art and art history at KCAI and should have prior experience working with art objects and/or collections. Academic internships are organized by the Professional Practice Center (PPC) at KCAI. All applicants must apply and be interviewed by senior Artspace staff. For more information, contact the PPC.
Work-study Program
The Artspace emphasizes visual art education and professional development for emerging artists and arts professionals. As a teaching museum, the Artspace offers a range of educational opportunities that allow students to gain critical insight into careers in the field of gallery work and provide practical, hands-on experience in a gallery setting.
In addition to internships, the Artspace also offers opportunities for KCAI students to work as gallery assistants through the work-study program at KCAI. Gallery assistants are responsible for monitoring the gallery, working at the reception desk, answering questions, conducting gallery tours, assisting with gallery preparation and art installation and assisting with office administration. Often gallery assistants remain on the staff for the duration of their academic career at KCAI. Working as a gallery assistant also can lead to an academic internship during the student's senior year, as well as extended work opportunities or a professional internship at the Artspace after graduation.
Students interested in applying to the work-study program can make an appointment with the financial aid office. Applicants must submit a resume, a letter of interest and three references.
Artist-in-Residence Program
On occasion, the Artspace invites artists to create new work for an exhibition or project while in residence at the Artspace. Artists are invited to interact and collaborate with KCAI students, faculty and Artspace staff as well as meet with Artspace visitors during their residency.
Artist-in-residence Ghada Amer working with KCAI students and alumni at the Artspace.
Past Artist-in-residence participants:
2018: Daniele Tegeder
2016: Simone Leigh
2014: Kate Gilmore
2012: The Xijing Men: Tsuyoshi Ozawa, Chen Shaoxiong and Gimhongsok
2007: Mel Ziegler
2006: Jeffery Vallance, Sean Foley, Marc Swanson
2005: Ghada Amer
2003: Wenda Gu
2002: Jamie Walker, Sadashi Inuzaka, Frances Whitehead, Jeanne Quinne, Walter McConnell
2000: Lee Boroson
1998: Eve Sussman, Karen McCoy and Don Wilkison, Bill Botzow, Adam Kuby, Li Shen, Susan White, Lynn Hull