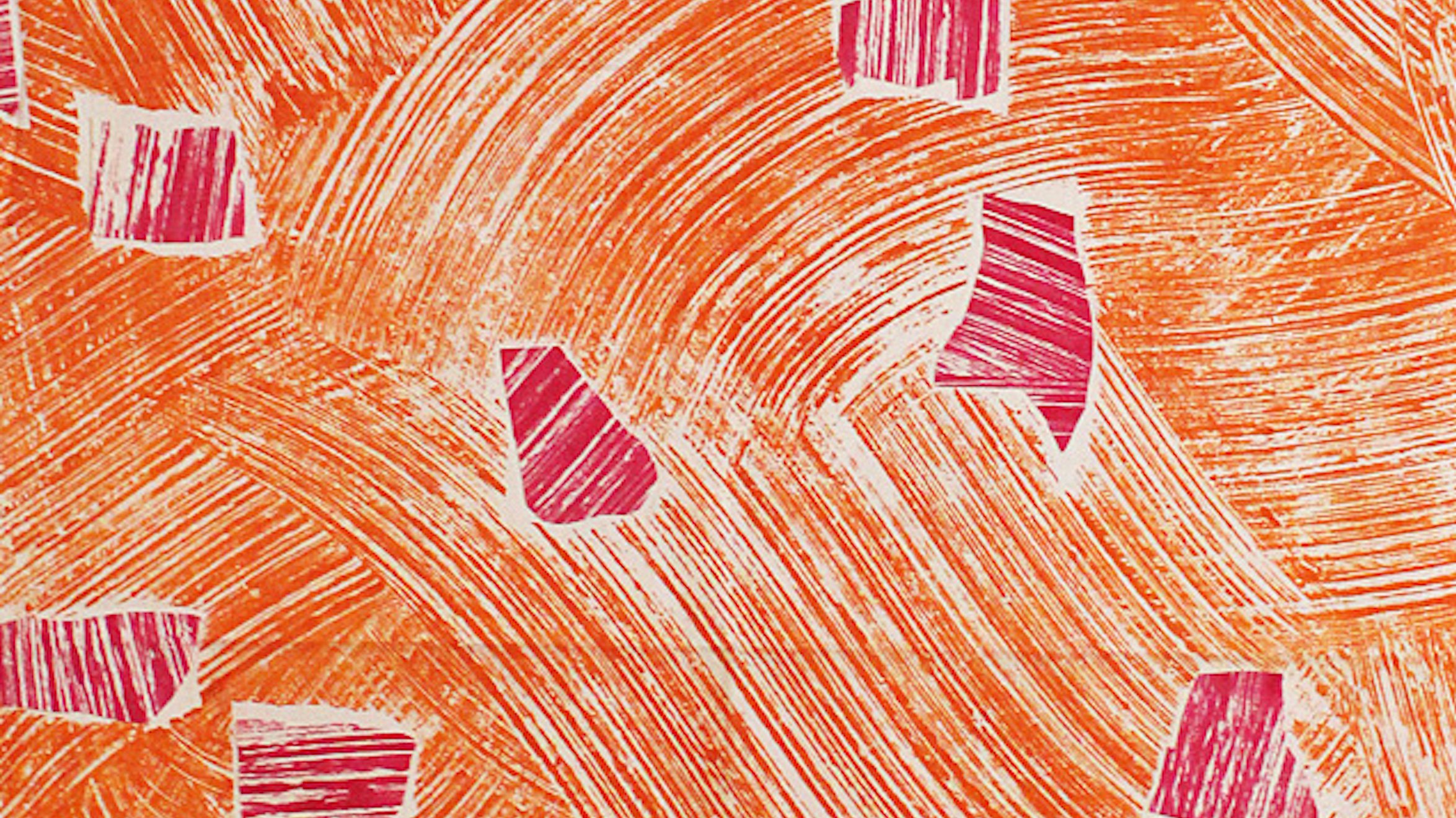 An Angel in America: Remembering Jaymes Leahy
06.01.2023 - 07.30.2023
Curated by Ann Wederquist Leahy
Exhibition Organized by organized by Stuart Hinds and Christopher Leitch
Partners include: the Gay and Lesbian Archive of Mid-America (GLAMA), the UMKC University Libraries Special Collections & Archives, KCAI Gallery, and the Alumni and Professional Practice Center at KCAI.
The 'past' I speak of is... a physical reality approached through memory... leaving a boundless impression which remains the significant motivation of my life.
Jaymes Leahy ('87 Fiber) had a lively and humorous creative intelligence, and his work was not content in a single medium. His confident drawing and lyrical compositions built evocative architectures of layered texture and luminous color. He strove in his drawings and patterns, printed textiles and botanical sculptures to realize family memories and their depths of feeling – with a twinkling eye, and a light touch. He found his creative footing at Kansas City Art Institute and pursued a freelance design profession in Europe and America. He returned to study at Cranbrook Academy and then at Yale University. His joyous life and a promising career were cut short by HIV disease in 1994. This exhibit acknowledges Leahy's time at Kansas City Art Institute and beyond, and the 40th anniversary of the first cases of HIV diagnosed and treated in Kansas City. Leahy's papers, journals and select works will be accepted into the collection of the Gay & Lesbian Archive of Kansas City at UMKC. His talent, his accomplishments, his life should not be measured against the specter of AIDS yet cannot be understood apart from it.
Essays by Jason Pollen, Professor Emeritus, KCAI and Ruben Castillo ('12 Printmaking) Visiting Assistant Professor, KCAI. Curated by Ann Wederquist Leahy, organized by Stuart Hinds and Christopher Leitch. Ann Wederquist Leahy is founder of the Magic Sock Fund, a competitive project-specific grant opportunity for KCAI students. The Fund was established in memory of Jaymes Leahy ('87 Fiber). Stuart Hinds is Curator of Special Collections, University Libraries, UMKC and adjunct faculty at KCAI. Christopher Leitch ('84 Fiber) is an artist and independent museum professional in Kansas City.
KCAI Gallery June 1 - July 30
Hours:
Thursday - Sunday: 12 - 5 p.m.
UMKC Special Collections & Archives at the Miller Nichols Library June 5 - July 28
Hours:
Monday - Thursday: 7:30 a.m. – 10 p.m.
Friday: 7:30 a.m. – 6 p.m.
Saturday: 11 a.m. – 6 p.m.
Sunday: 1 p.m. – 10 p.m.
Public Reception:
June 16
UMKC 5 - 7 p.m.
KCAI Gallery 6 - 8 p.m.
Alumni Coffee
June 17
KCAI Gallery 11 a.m.-12 p.m.
Roundtable Discussion with Ann Wederquist Leahy and Special Guests
June 17
KCAI Gallery 12-2 p.m.
Jaymes Leahy at 1987 Commencement
About GLAMA
The Gay and Lesbian Archive of Mid-America was formed in 2009 to collect, preserve, and make accessible the documents and artifacts that reflect the histories of the LGBTQ communities in the Kansas City region.  GLAMA houses over 450 linear feet of collection material, from organizations and individuals representing all aspects of the rainbow spectrum.  Materials date from the late 19th century through the early 21st, and they are regularly utilized by researchers locally and across the globe. 
About KCAI Gallery
Launched in 2016 in the Crossroads District and relocated into the Tony Jones Studios on the main campus in 2020, the KCAI Gallery: Center for Contemporary Practice serves the mission of KCAI through collaborative, curriculum-based engagements with students, faculty, community and artists in residence. The gallery presents curatorial outcomes of these engagements that include exhibitions, screenings, lectures, readings, and conversations. This site and related programs hold space for critical thought, reflection and dialog about current issues and social challenges in our world. Founded in 1885, the Kansas City Art Institute is one of the oldest and most respected art and design colleges in the United States. Located at 4415 Warwick in Kansas City, Mo., KCAI is a premier private, fully accredited four-year college of art and design awarding the Bachelor of Fine Arts degree in 13 majors. KCAI's mission is to prepare students to transform the world creatively through art and design.
Press Contact KCAI
Kathy St. Clair
Director of Marketing & Communications
816.802.3426
kstclair@kcai.edu
About UMKC Special Collections & Archives
The UMKC University Libraries' Special Collections & Archives (SCA) division consists in part of LaBudde Special Collections, the Gay and Lesbian Archive of Mid-America, Marr Sound Archives, and  University Archives. LaBudde Special Collections houses a Western Americana book collection and over 200 collections of manuscript and primary source materials rich in the humanities. Resources reflecting the local LGBTQ communities are gathered as the Gay and Lesbian Archive of Mid-America, and the papers of notable Kansas City women are donated as part of the Starr Women's Hall of Fame. The Marr Sound Archives contains over 450,000 audio/visual materials and includes a wide variety of music genres as well as historic speeches, interviews, oral histories, and radio programs.  University Archives is home to archival collections documenting UMKC's history and legacy.  Located in the Miller Nichols Library at 800 E. 51st Street, SCA is a major component of teaching and learning in the humanities, arts, and social sciences on the UMKC campus and in the global community. We provide high impact learning experiences to a broad range of students, support graduate, doctoral, and community research, and deliver meaningful engagement opportunities.
Press Contact UMKC:
Stuart Hinds, Curator of Special Collections & Archives
816.235.5712
hindss@umkc.edu