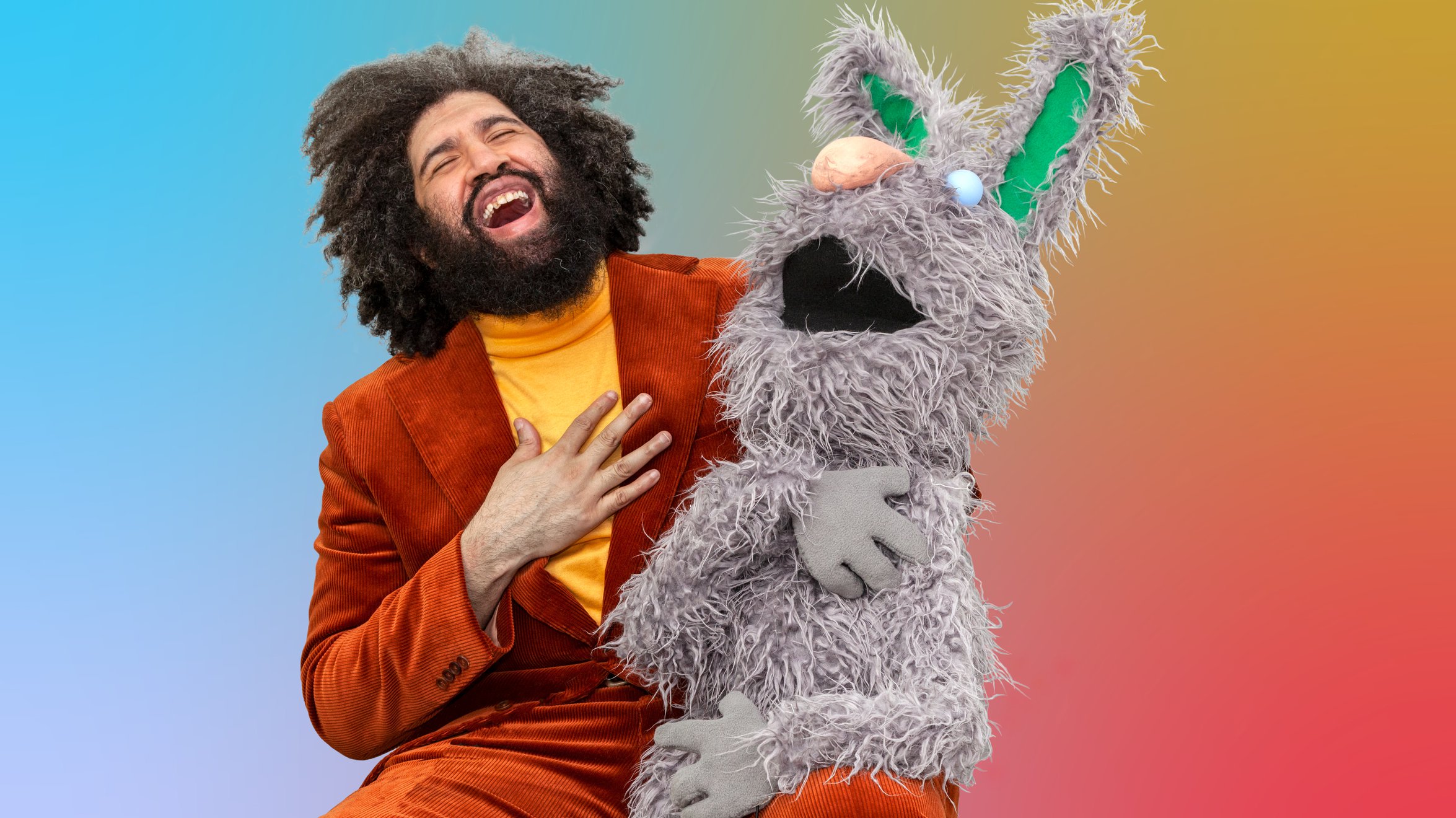 Jayson Musson: His History of Art
02.08.2023 - 06.17.2023
Jayson Musson: His History of Art is a Midwestern premiere of the new three-channel video series written, starred, and co-directed by New York-based artist Jayson Musson and produced in its entirety as part of his artist residency at Philadelphia's celebrated Fabric Workshop and Museum. His History of Art playfully deploys costumes, props, puppets, and scenery and centers on a sitcom-style video series, in which Musson—performing as "Jay"— endeavors to educate his skeptical puppet sidekick Ollie on the relevance of art. Jay and Ollie journey across a three-episode arc from prehistoric art through the present, encountering figures as varied as Pablo Picasso and a larger-than-life Venus of Willendorf along the way. 
Image: Jayson Musson as "Jay" with "Ollie." Jayson Musson, in collaboration with The Fabric Workshop and Museum, Philadelphia, His History of Art, 2022. Photo credit: Carlos Avendaño.
Public Events
Opening Reception 
Wednesday, February 8
6–8 p.m.
More public events to be announced.
About the Artist
Jayson Scott Musson was born in the Bronx, NY. He received a BFA in photography from University of the Arts and an MFA in painting from the University of Pennsylvania, both in Philadelphia, also attending the Skowhegan School of Painting and Sculpture in Skowhegan, ME, in 2011. Musson is represented by Salon 94 in New York and Fleisher/Ollman in Philadelphia. His solo exhibitions include We Sing in A Dead Language, Zidoun-Bossuyt Gallery, Luxembourg City, Luxembourg (2019); Demon All Day, Salon 94 Freemans, New York (2017); The Truth in the Song, Fleisher/Ollman Gallery, Philadelphia (2016); The Grand Manner at the Pennsylvania Academy of the Fine Arts, Philadelphia (2011); and Too Black For BET, Dazed & Confused Magazine Gallery, London, England (2008). His work has been included in group exhibitions at the Whitney Museum of American Art, Lisson Gallery, and Postmasters Gallery, New York; Whitechapel Gallery, London; Galerie Perrotin, Paris; Grimmuseum, Berlin; Museum of Contemporary Art, Chicago; David Castillo Gallery, Miami; and Yerba Buena Center for the Arts, San Francisco, among others.
About the H&R Block Artspace
Dedicated to artists, art, and ideas since 1999, the H&R Block Artspace at the Kansas City Art Institute presents innovative exhibitions, public programs, and commissioned projects to engage and inspire the next generation of artists, designers, and culture workers.
The Artspace receives support for its programs from the Missouri Arts Council – a state agency, H&R Block Foundation, The Stanley H. Durwood Foundation, the Jesse Howard Fund at KCAI, and from private contributions. 
The Artspace is open and free to all. Public hours are Wednesday through Saturday, 12–5 p.m.
Supporters
Jayson Musson: His History of Art is organized by The Fabric Workshop and Museum, Philadelphia.
Major support for Jayson Musson: His History of Art has been provided by The Pew Center for Arts & Heritage, with additional support from The National Endowment for the Arts, The Wyncote Foundation, and All Ages Productions.