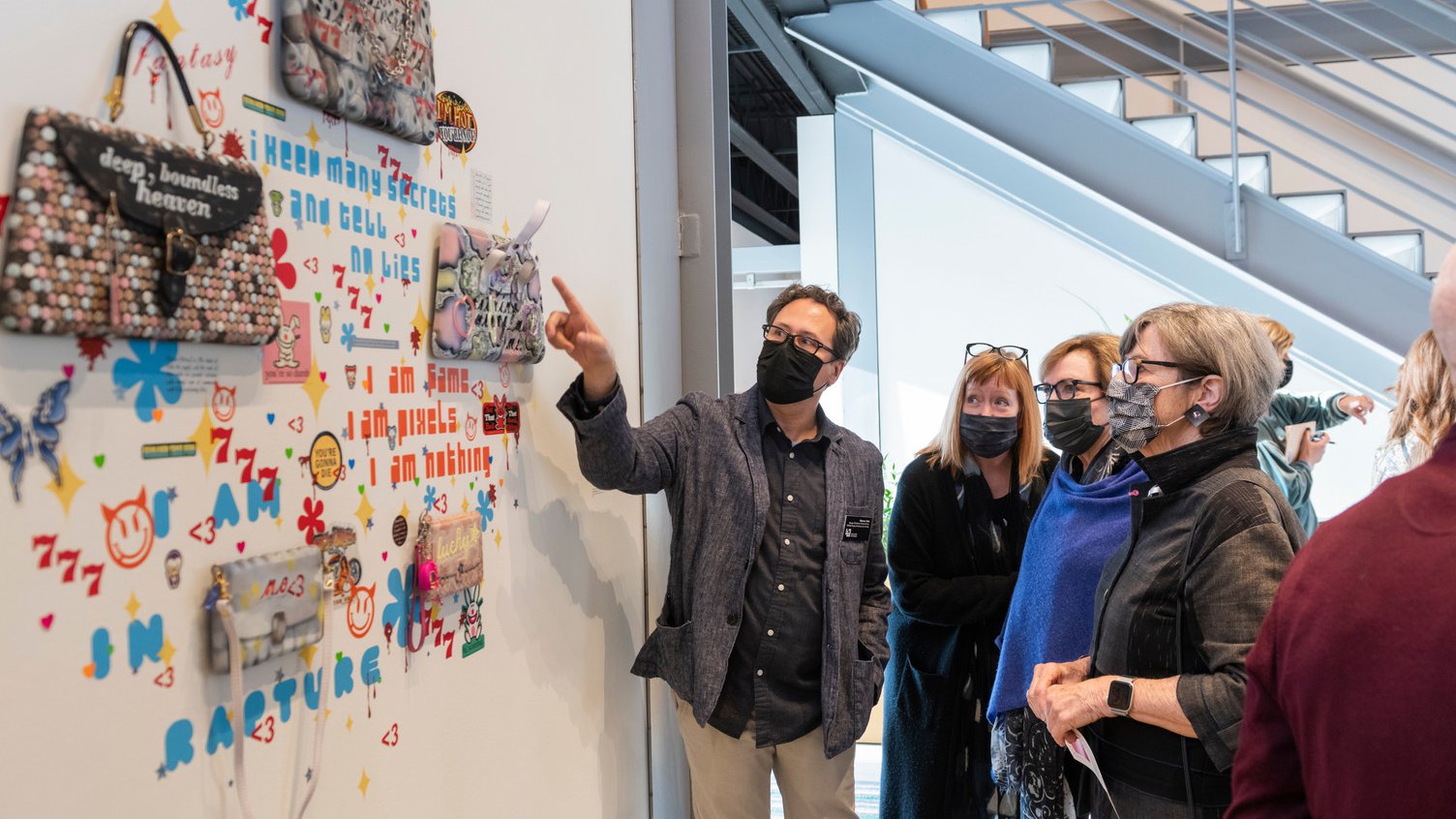 Dedicated to artists, art, and ideas since 1999, the Artspace serves the mission of the Kansas City Art Institute as a dynamic teaching museum, engaging students and introducing audiences to important contemporary art and artists.
To enhance and sustain a strong and vibrant regional arts ecology, the Artspace organizes and presents innovative and diverse exhibitions and public programs featuring established and emerging regional, national, and international artists. Our vision is to contribute value and diversity to the artistic advancement of the city; to create meaningful collaborations that benefit regional artists and audiences; and to foster conversations and engagements that explore innovation, experimentation, knowledge, and create greater cultural understanding. The Artspace supports the creation, presentation, and appreciation of important contemporary art through exhibitions, publications, public art projects, educational programs, professional development opportunities, collection stewardship, and partnerships.
KCAI Permanent Collection
The Artspace is home to the Kansas City Art Institute's permanent collection of fine art. KCAI began acquiring works in 1885, and today the collection includes an eclectic range of more than 1,000 objects including paintings, sculptures, ceramics, contemporary and historical prints, works on paper, design objects, folk art, outdoor sculptures, and a range of decorative art and collectibles. The KCAI permanent collection serves as a teaching collection, and Selections from the Collection exhibitions are often organized to complement programming and other exhibitions at the Artspace.
The KCAI permanent collection features a substantial collection of prints produced by Landfall Press, owned and operated by Jack Lemon ('63 Painting) in Santa Fe, N.M. These prints have been featured in Artspace exhibitions including Landfall Press: 1970–2000,  Big and Beautiful, Storyline: Inviting Narratives, Process in Printmaking and Chicago Art: Early and Contemporary Imagery and Influence, and 100 Proof.
In 2017, the Artspace placed a large selection of artworks by Missouri self-taught artist Jesse Howard in the permanent collection of a number of prominent American museums, enabling the creation of a fellowship focused on art history, collection care, and museum practice for KCAI students and alums. The Jesse Howard Fellow and KCAI academic interns have opportunities to provide curatorial and managerial support for the permanent collection, including curating Selections from the Collection exhibitions or other special projects in the Cohen Resource Room.
Staff
Raechell Smith, Director and Curator
816.802.3574
rmsmith@kcai.edu
Marcus Cain, Manager of Operations & Communication
816.802.3571
mdcain@kcai.edu