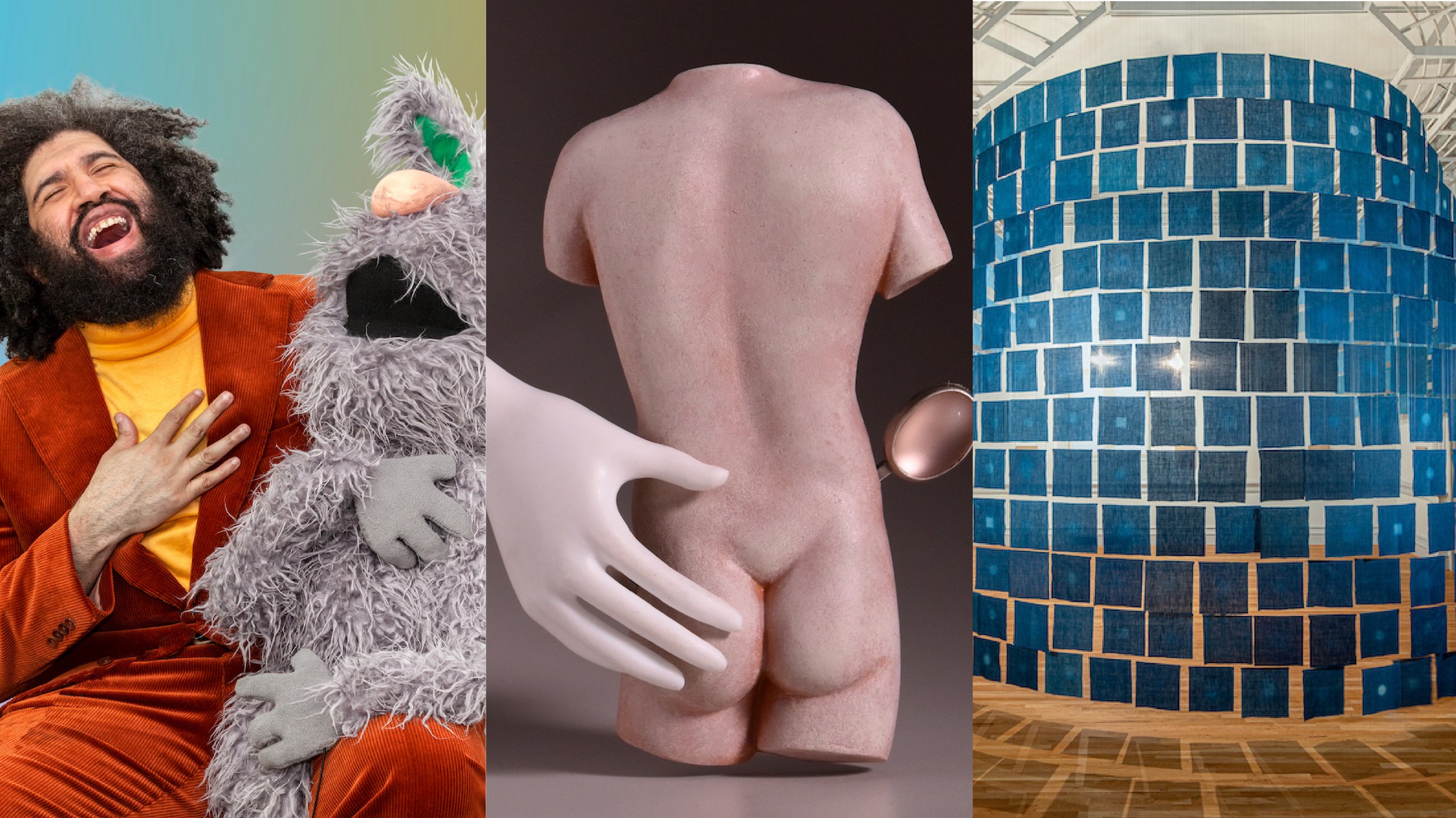 Three artists entertain and educate at spring lectures
02.23.2023
A wacky and profound art historian, an internationally celebrated jewelry designer, and a renowned textile and dye artist will share their work this spring at a series of talks. These notable artists will also engage with students through a series of discussions and critiques. 
These presentations will inform, engage and celebrate relevant topics and practices in contemporary art and culture. Each lecture will take place at 7 p.m. in Epperson Auditorium in Vanderslice Hall and are free and open to the public.
Hoffman Visiting Artist Lecture: Jayson Musson
March 9
2023 Hoffman Visiting Artist, Jayson Musson shares his latest body of work that draws inspiration from the structure and tone of educational programs such as PBS children's shows and nun-turned-art critic Sister Wendy Beckett. In His History of Art, Musson adds his own twisted spin to conduct a satirical survey on art history, its relationship to the public, and the ways in which popular art historical images impact our cultural consciousness. This free public lecture is underwritten by the Hoffman Visiting Artist Endowment and accompanies the Jayson Musson: His History of Art, an exhibition on display through March 21 at H&R Block Artspace.
March 2
Bruce Metcalf's jewelry has been shown in more than 400 exhibitions worldwide and he's the recipient of numerous awards including two NEA Visual Artists Fellowships, a Fulbright Teaching and Research Fellowship, and a Pew Fellowship in the Arts. In this presentation, he'll investigate some of the craft's special features, including empathy, care, and its ability to celebrate. He'll give a theoretical account of the status of craft, and what makes craft a unique field of its own.
March 30
Rowland Ricketts utilizes natural dyes and historical processes to create contemporary textiles that span art and design. His lecture will cover his work growing, processing, and dyeing with indigo within the context of this dye's materiality and global history. Special emphasis will be placed on recent works that make palpable the invisible aspects of the color's creation as well as the invisible histories and forces that lie below the surface of this globally revered dye. 
In addition to the lecture, he'll conduct a week-long Center for Contemporary Practice project with students in Fiber, Foundation, and Liberal Arts, resulting in an exhibition on campus including an installation of collaborative work between Rowland and Fiber students, and response pieces by students in Foundation and Liberal Arts.