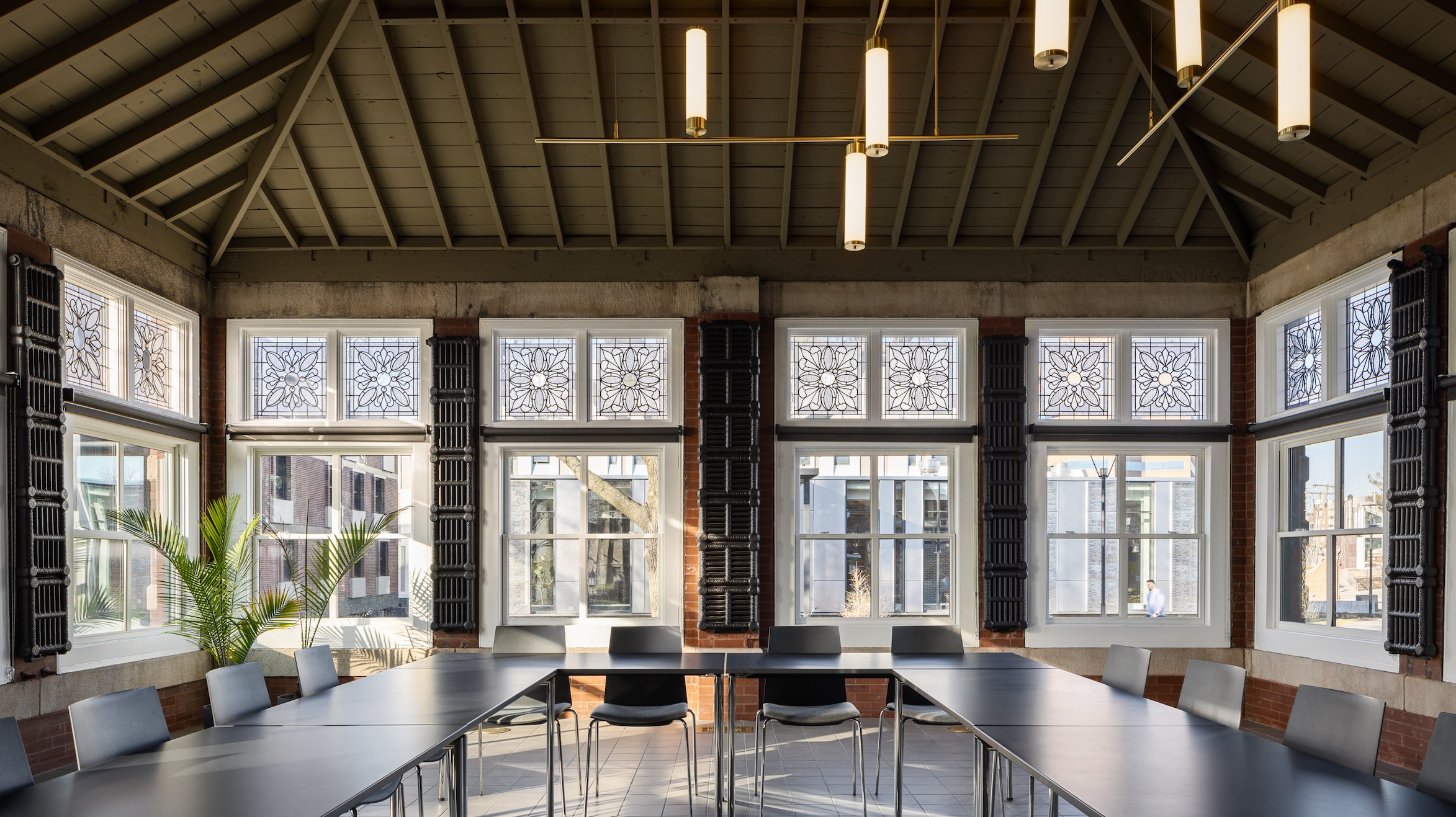 New Admissions Welcome Center Opens in Vanderslice Hall
03.29.2023
Thanks to the generosity of the William T. Kemper Foundation, Commerce Bank – Trustee, the Harry Wilson Loose Trust, Bank of America, N.A. and the Vanderslice Auxiliary, prospective students and their families now have a first-class experience when they visit the Admission Welcome Center in Vanderslice Hall.
From the minute they walk through the porte cochere, renovated through the generosity of our very own Vanderslice Auxiliary, and step into the Grand Hall with new furniture and a renovated fireplace thanks to a gift from the Harry Wilson Loose Trust, they experience the renewed majesty of our historical Vanderslice Hall. 
A lead gift from the William T. Kemper Foundation brought to life the new Admissions Welcome Center. The former screened-in porch and greenhouse — 'the fernery'— has been restored and reimagined, and is now a feature meeting space for the Admissions team. The design by local architectural firm Helix includes newly restored clerestory windows. The project brought about the discovery of previously covered architectural gems and brought back two fireplaces, pocket doors, and other significant features that disappeared over the years.
"Our support of Vanderslice knits together many threads for our foundation's priorities and interests. While it is expensive to do work on such a building, we felt that funds spent should be considered among essential investments to embody and promote a primary mission of the school – the appreciation of good design and beauty," said Jonathan Kemper, Chairman Emeritus, Commerce Bank. 
Visitors become immersed in their surroundings when they look out the windows of the Welcome Center. As they take in the campus green, the beautiful buildings on campus, and our neighbors the Nelson-Atkins Museum of Art and the Kemper Museum of Contemporary Art, they start to imagine what it's like to study at KCAI. According to Vice President of Enrollment Management Darcy Deal, it crystalizes the big picture and their future at KCAI.
"We carefully planned a space that allows prospective students and their families to experience a portfolio review, a presentation, meet with admissions staff, begin their tour, or even attend an info session as a seamless experience within the Admissions Welcome Center."
Admissions Welcome Center
Admissions Welcome Center
Admissions Welcome Center
Admissions Welcome Center
Admissions Welcome Center
Vanderslice Hall exterior
Vanderslice Hall exterior
Vanderslice Hall exterior