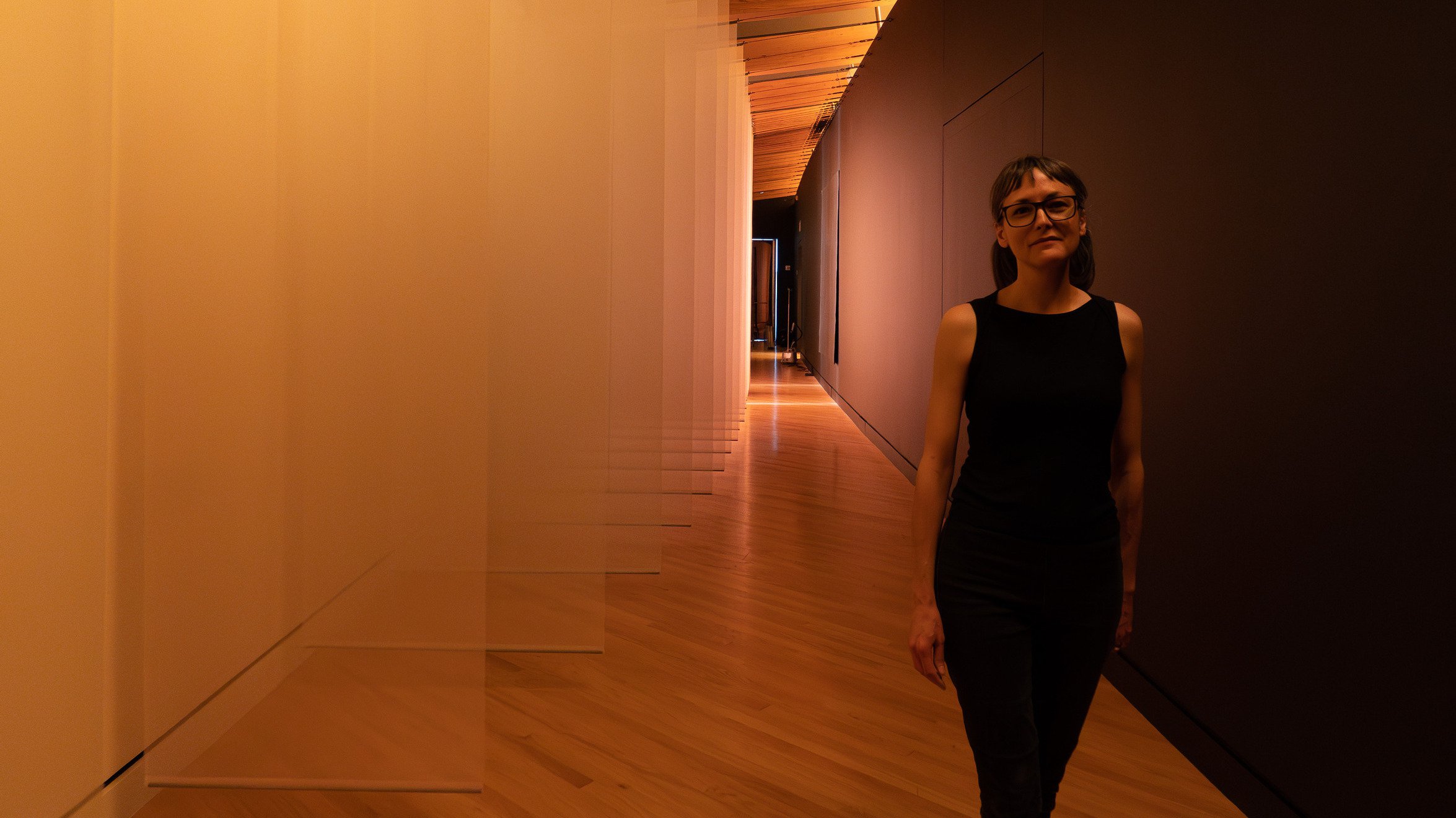 Marie Bannerot McInerney's exhibition at Crystal Bridges engages the senses
06.28.2023
In Associate Professor of Fiber Marie Bannerot McInerney's ('02 Fiber) exhibition Trace Me Back, open through April 2024 at Crystal Bridges Museum of American Art, you'll move between 67 silk panels and watch their edges blur and disappear while diffusion and slowly changing illumination create a hazy middle ground between light and dark. The panels run nearly floor to ceiling, and a 96" square lighting element and 96" square cement textile unify to create a space to linger.
Trace Me Back
Themes of loss, regret, and uncertainty are integral to the exhibition, with references to the Greek myth of Orpheus and Eurydice. A sonic element, collective lamenting voices build from a singular voice to a cacophony of sound, and softly retreat back to a singular voice over the course of 60 minutes. Each note is extracted from three operas based on the myth at the precise moment when Eurydice's fate is decided. 
Crystal Bridges co-curator, Alejo Benedetti, encourages everyone to experience the exhibition. "Trace Me Back is truly a transportive experience. It's beautiful and engages the senses in ways that make a viewer totally aware of their body in the space even as they are entranced by the fabric, light, and other elements that fill the space," he said. 
The exhibit culminates nearly a year of planning, production and coordination with co-curators Alejo Benedetti and Victor Gomez.
In August of 2022, Marie walked the space at Crystal Bridges and began working from architectural renderings and photos. She explored materials within small mockups in her Kansas City studio and digitally planned each one of the unique panels before they were executed. 
The installation was time intensive as each individual panel, lighting and the cement textile was installed precisely in place. The week prior to opening was the first time that all the components existed together. 
Marie said, "Working site-responsively is my favorite way to work because it really pushes me. Each new space is an opportunity for a different kind of problem solving and creates parameters that enable my work to take on new shapes." 
Crystal Bridges Museum of American Art  is a three-hour drive from Kansas City, — perfect for an overnight or weekend visit. The museum has a world-class collection of American art, stunning architecture, and is nestled within 120 acres of Ozark woods, with five miles of trails.
Installation of Trace Me Back