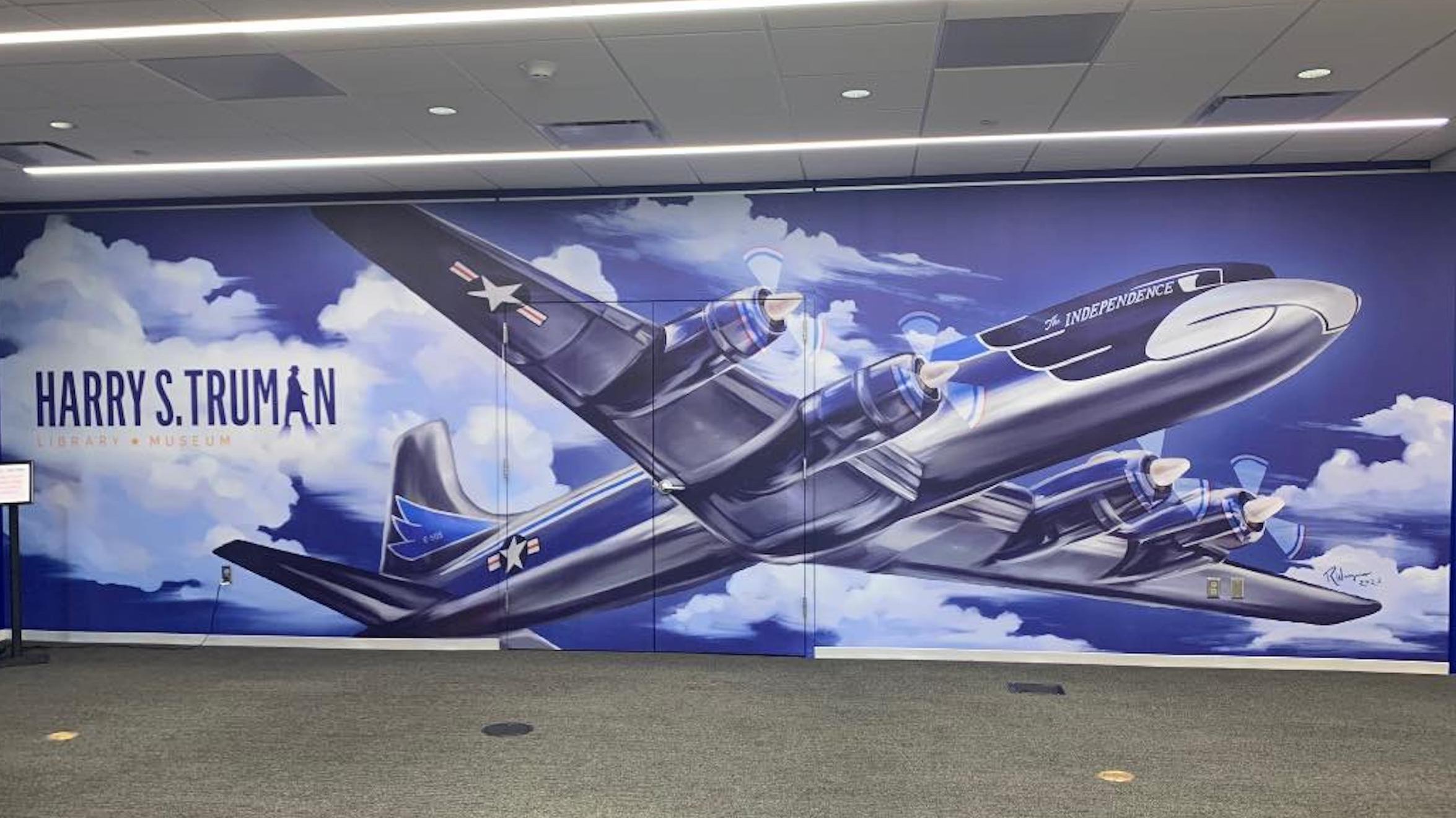 KCAI is everywhere thanks to Sponsored Studio
06.28.2023
The first thing you'll notice when you enter the conference rooms at Harry S. Truman Presidential Library and museum are two expansive blue and gold murals. These stunning giant works of Truman's Whistle Stop Tour and his official plane, The Independence, were created by Rebecca Wagner ('23 Graphic Design) as part of Sponsored Studio, KCAI's creative incubator that connects local businesses with KCAI students.
During the past year, Sponsored Studio has been commissioned to create 14 unique projects for area businesses and nonprofit organizations. Some of the projects were part of the MICRO Agency class led by Professor of Illustration David Terrill. The murals, animated shorts, website designs, and other ventures are changing the face of Kansas City. They're also helping students prepare for careers by working with clients, presenting ideas, solving creative problems, and meeting deadlines.
Kansas City Royals Dominican Republic Academy and Urban Youth Academy
A six-episode series of life-skill shorts quickly grew into a 22-episode animated series with returning characters. Animation, Creative Writing, and Filmmaking students worked together to produce the series, with each episode covering a life-skill that sets the young ball players up for success.
1111 Main
A three-story, abstract mural with bold colors was created for the glass entryway as an intentional part of the architectural process for the first-floor renovation. The students were asked to produce a large abstract mural with bold colors. 
Stephanie Burkett, Marketing Manager, Copaken-Brooks said,  "As concepts rolled in, we started to narrow down our favorites. It was thrilling to see the various interpretations." They were so pleased with the partnership, they recently added a second mural in the lobby of the Harzfeld's building by the same artist, Ella Denson-Redding, ('21 Illustration.)
Rockhurst University
Students completed two projects at Rockhurst University this year. In the first one, students were challenged to enhance the experience of the Seelos Simulation Center, which houses observation rooms and simulated clinic settings for healthcare students. Several illustrations, paintings, and murals were created, which work together to illustrate how healthcare professionals connect with patients and care for others.
In the second project, students created a ceiling mural that celebrates multi-faith perspectives and embraces campus diversity through the lens of religious identity. 
"The experience of working with KCAI students was very rewarding — it was especially empowering for our team of Rockhurst students to come up with criteria for the mural project and work with the KCAI team to shape it," said Kristy Peterson, Rockhurst University. The selected design was created by Catherine Rybak, ('24 Illustration.)
Catherine Rybak ('24 Illustration)
Elly Martinez ('22 Illustration)
Brianna Burgo ('24 Illustration)
Jackson Adriano ('22 Illustration)
Jackson Adriano ('22 Illustration)
Trinity Burgo ('24 Illustration)
Alessio Chavez ('22 Painting & Art History)
Alessio Chavez ('22 Painting & Art History)
Rebecca Wagner ('24 Graphic Design)
Since 2014, the Sponsored Studio program has evolved into one of KCAI's signature programs. This year, the program provided more than $130,000 in scholarship support while giving our students real-world, hands-on experience and enhanced training. To learn more, contact Randy Williams, Senior Director of Corporate and Community Programs at sposnoredstudio@kcai.edu.