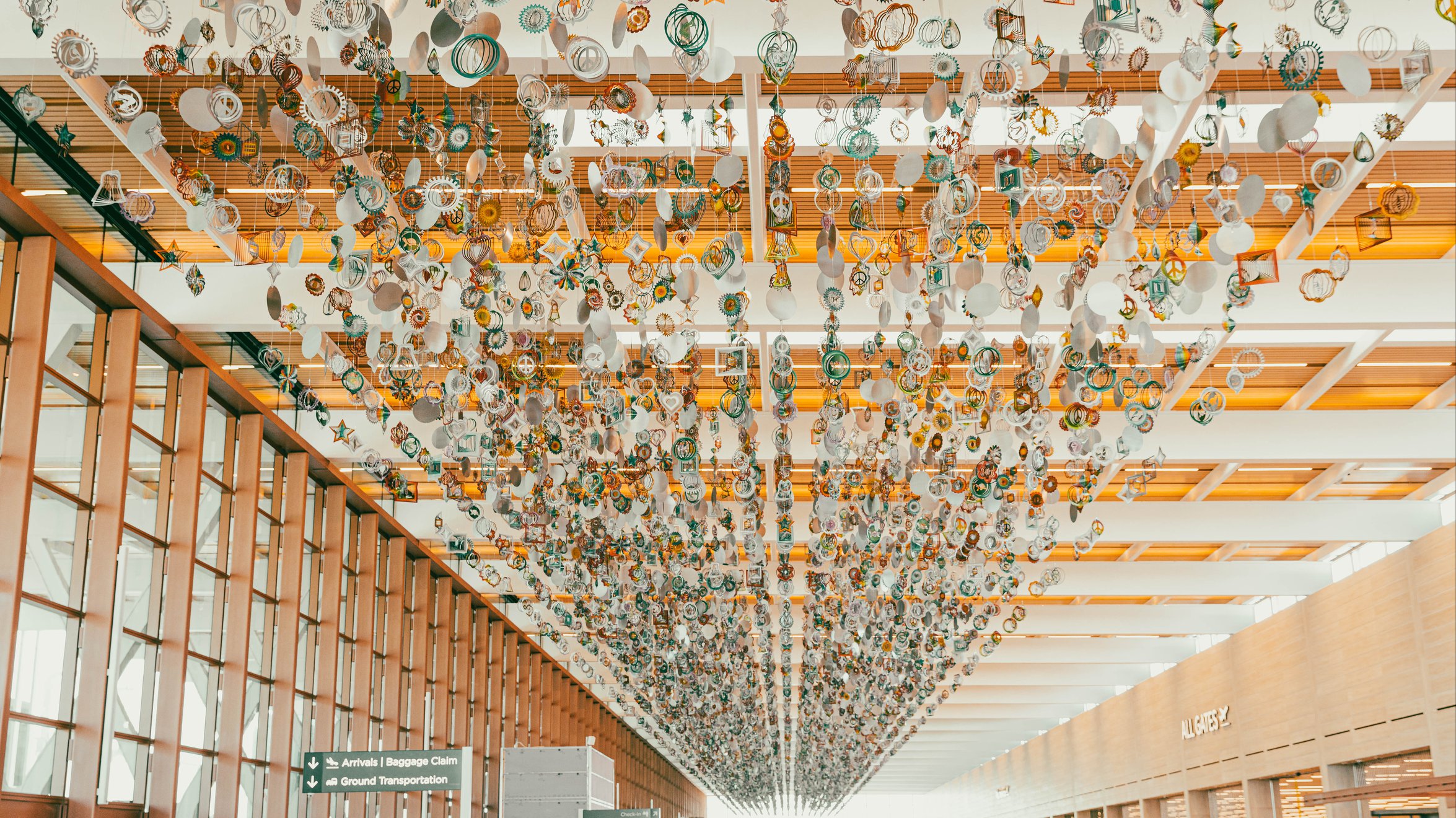 Alumni & faculty land artwork at the new KCI terminal
02.23.2023
When you walk into the new airport terminal check-in hall you'll be greeted by a dazzling display of art by KCAI alumni and faculty. 
Look up to see Nick Cave's ('82 Fiber) The Air Up There, made of nearly 3000 individual strands to create an overhead spinner installation spanning almost 500 feet long. The custom wind spinners depict icons from the Kansas City region such as fountains, a shuttlecock, native animals, as well as symbols of equality and love, inspired by the magic of flight.
Look to your right and see John Balistreri's  ('86 Ceramics) large-scale four-piece ceramic work Wings, painted with slips and glazes to represent aviation icons, the Missouri River line, flowering dogwoods, and the human imprint on flight.
Of the many newly commissioned works of art throughout the airport, thirteen were created by KCAI artists, and many faculty, staff, and alumni were involved in the artwork selection process.
It's all part of Kansas City's One Percent for Art program, stipulating that one percent of public construction costs be set aside for public art enhancements. The new terminal had a budget of $5.65 million for newly commissioned public artworks, the largest One Percent Art project in Kansas City history.
To have so many KCAI artists play a large role in the airport project makes sense to Holly Hayden ('03 Illustration), Consulting Artist, and member of the Executive Committee. "How could we not have Kansas City's premier art school play a role? The knowledge, creativity, and resources KCAI alumni bring to a large art project of this scale are invaluable. When art is the focus of the process, it's clear that the Art Institute has to be involved," she said. 
Holly took on the role of Consulting Artist in 2019 when there was still dirt where the new terminal stands today. She played an integral part in all phases of the project, starting with deciding what types of artwork to include, where to locate them, and budget allocations for each, along with leading the RFQ and RFP process. With the help of architects, project advisory artists, fellow committee members, and selection panelists, they landed on 28 locations and work that ranges from wall-based concourse art to million-dollar sculptural pieces.
"Art is the intentional narrative of the airport experience. The moment you drive up to the terminal, even before you get out of your vehicle, you'll see the artwork in the garage stairwells. Whether you walk through the halls, grab a coffee, or sit at your gate, you'll be surrounded by art," Holly said. 
The Executive Committee with Holly, consisted of members of the KC Aviation Department, project stakeholders, Commissioners on the KCMO Municipal Art Commission, Illustration Assistant Professor Hector Casanova ('98 Illustration & Art History), David Wayne Reed and Christel Highland, KCMO Public Art Administrator James Martin, and two appointed art community representatives, Mary Kemper Wolf and Allan Grey. They agreed this was their opportunity to expand KC's reputation beyond the clichés of BBQ and "Land of Oz".
Hector Casanova knew this was a once-in-a-lifetime opportunity to have a meaningful voice toward shaping the perceptions millions of future visitors will have of our city. 
"For too long, KC has suffered from a middle child inferiority complex, relegated to a reputation as "flyover country" between the supposedly more cosmopolitan and hip coasts. Those of us who live here are well aware of the richness and diversity of KC's culture and especially the arts... but much of the United States is largely oblivious of just how cool KC is," he said. 
Showing KC's culture through art clearly depended on the artistic merit and quality of the work, and after receiving more than 1900 applications, selection began. However, the process looked very different than the norm. Typically, one panel would choose all the work. In this case, each location had a panel of people from all walks of life, ages, ethnicity, disciplines, and community bases. It brought multiple voices and viewpoints to the process.
Local artists proposing Concourse wall artworks were chosen by arts professionals from outside the region to ensure an equitable process. One selected finalist is Printmaking Professor Laura Berman. No stranger to public art, she has work hanging in Children's Mercy's Research Institute, and she was thrilled to have her work selected for such an iconic location. 
Her timeless landscape Rays was inspired by the tallgrass prairie of the Flint Hills. The triptych contains 20 different hand-mixed colors and was created with hundreds of printing plates and five runs through a large intaglio press in partnership with Pele Prints of St. Louis.   
She wants her work to bring peace to airport travelers. "I'm a nervous traveler, and I hope that this serene landscape will have a calming effect on everyone who views it," she said. 
One Percent for Art Participants
KCAI Selected Artists
John Balistreri ('86 Ceramics), Wings, North End Check-In Hall
Debbie Barrett-Jones ('07 Fiber), Woven Landscape Located near Gate B61
Laura Berman, Professor of Printmaking, Rays, Located near Gate A12
Nick Cave ('82 Fiber), The Air Up There, Check-In Hall Ceiling
Santiago Cucullu, William T. Kemper Visiting Artist Professor, Separate and Complex Bodies, Sophisticated Interactions, and Unfathomable Lives, Located near Gate B47
Linda Lighton ('89 Sculpture), Ode to the Tallgrass Prairie, Located near Gate A10
Stephen Proski ('10 Creative Writing & Painting), Taking Flight, Located near Gate B59
Bernadette Esperanza Torres ('91 Ceramics), Dreaming Of The Beautiful Places You Will Go, Located near Gate B57
KCAI BuildKCI Executive Committee members
Holly Hayden ('03 Illustration), Consulting Artist, PMG
Hector Casanova ('98 Illustration & Art History), Assistant Professor of Illustration
Mark Spencer, KCAI Board of Trustees (1992-2022)

KCAI Selection Panelists
Hector Casanova ('98 Illustration & Art History), Assistant Professor of Illustration
Jean Schmitt, former Assistant Professor of Foundation
Renee Cinderhouse ('01 Sculpture)
Cory Imig, Alumni and Professional Practice Manager
Tony Jones, former Nerman Family President
Michele Fricke, former Ray Beagle Chair of Art History
Eleanor Lim-Midyett, Assistant Professor of Liberal Arts
For more information about the Kansas City International Airport artwork visit flykc.com/public-art
Additional Selected Artists
Baldemar Rivas ('16 Illustration), City Market seating
Emily Alvarez ('18 Illustration), City Market seating
Felix Maull ('19 Filmmaking), City Market seating
Steve Snell, Associate Professor or Foundation, Delta Skymiles Club
Lily Marie Mueller ('20 Fiber), Delta Skymiles Club
Linda Lighton ('89 Sculpture)
Bernadette Esperanza Torres ('91 Ceramics)
Laura Berman, Professor of Printmaking
Santiago Cucullu, William T. Kemper Visiting Artist Professor
Debbie Barrett-Jones ('07 Fiber)
John Balisteri ('86 Ceramics)
Stephen Proski ('10 Creative Writing & Painting)
Steve Snell, Associate Professor of Foundation
Lily Marie Mueller ('20 Fiber)
Baldemar Rivas ('16 Illustration)
Emily Alvarez ('18 Illustration)
Felix Maull ('19 Filmmaking)