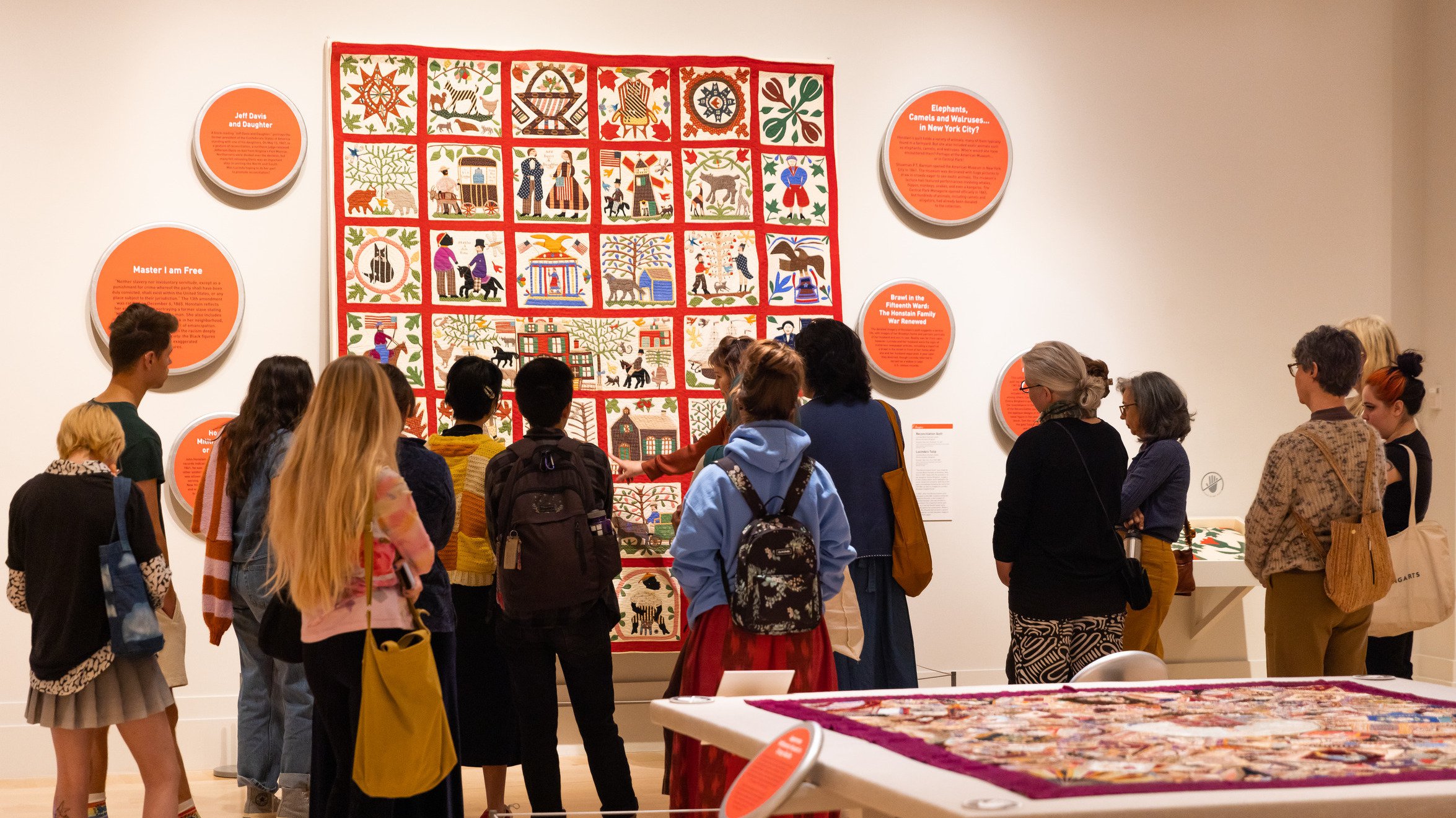 Students Take to the Road
10.26.2022
KCAI students are immersed in classroom learning and studio work but stepping away from the college to visit museums and workshops offers them unexpected hands-on experiences and historical perspectives. This fall Fiber and Product Design students took to the road to discover the art of quilting and glassblowing. 
International Quilt Museum - Lincoln, NE
In late September, 39 Fiber students, community members, and alums got an exclusive tour of the International Quilt Museum'scollection and a behind-the-scenes look at the maintenance of the quilt inventory. In the collection space, they viewed quilts made from the 1800s to the 2000s and learned about the history of quilting and major quilting artists. In the maintenance area, they observed the special vacuuming and folding techniques used for optimal quilt storage. They also got a sneak peek at temperature-controlled storage rooms, which held thousands of different quilts. One of the main goals of this museum is to maintain quality, integrity, and longevity for all the pieces. 
Leon McAllister (Sophomore, Fiber) was motivated by the trip. "It was inspiring to be able to see so many pieces and to think about who made them, how long it took, and what struggles they overcame. I was amazed by the collection and its diversity- many techniques are displayed and I feel like I can learn something new with every quilt," he said.  
According to Professor and Chair of Fiber Pauline Verbeek, field trips support Fiber studio work and allow students to experience new places, interact with each other outside the classroom, and build new relationships. 
"Adventures like this are meaningful to everyone who attends. I heard from several students about how much they enjoyed the inclusion of community members and alumni. I'm grateful to the Susan Lordi Marker Fund for making this extraordinary outing possible," said Pauline.  
International Quilt Museum
International Quilt Museum
International Quilt Museum
Rock Cottage Glassworks
Product Design students received hands-on experience in a workshop at Rock Cottage Glassworks. Each student had a role in prepping the design, blowing the glass, running the molds, and helping with annealing.
A wooden blow mold they created in Beal's Studios for Art & Design made it possible to circumnavigate technical glass-blowing knowledge. They used 3D modeling and CNC routers to create prototype molds that enabled them to craft blown glass in a way that would otherwise be impossible.  
"The old school practice of glass-blowing takes many years to perfect, but the mold prototypes allowed students to experience it in expedited ways," said Assistant Professor of Product Design Alison Wood.