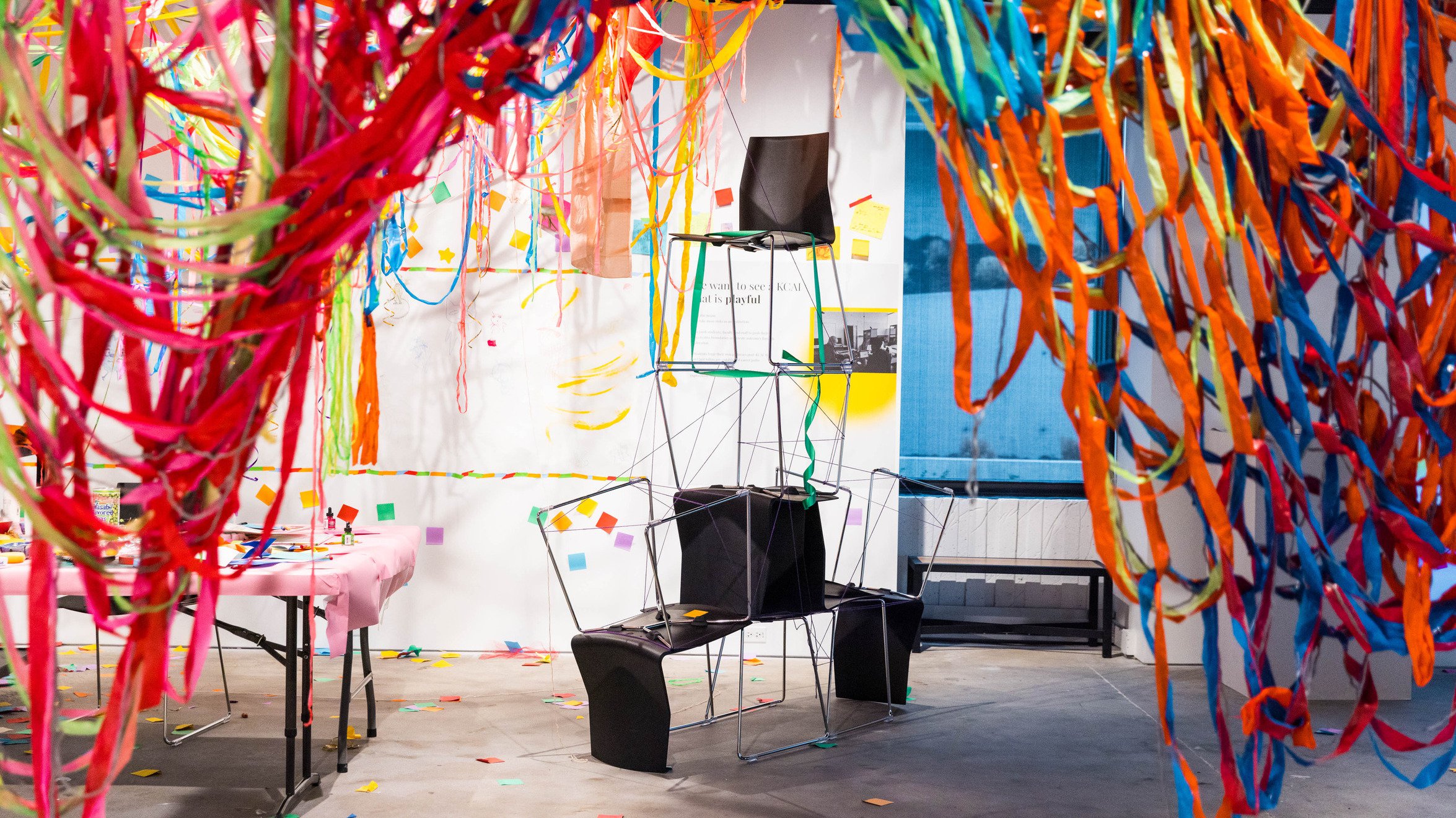 Strategic Plan charts the course for KCAI's future
03.29.2023
With the help of students, alumni, faculty, and staff, and facilitated by partner Co:Collective, KCAI has embarked on a strategic planning process to co-create a bold vision for the school's future trajectory. An art exhibition by students invited the community to contribute their ideas.
Twenty-two students representing different majors and grad years came together to interpret draft aspirations - playful, thriving, expansive, integrated, and welcoming. They had four hours to bring their ideas to life. Nick Sparger, ('23 Filmmaking), Egil Enriquez-Gudiel ('24 Graphic Design), and Kevin Hopkins III ('23 Painting) chose the concept expansive. They created a world map that was projected on the wall and asked visitors to add a note with a push pin to the locations around the world where they would like to see KCAI exhibitions, residencies, and educational partnerships. The locations were connected with colorful yarn.
Nick could immediately see possibilities of places KCAI could impact in the future." It's evident that we can expand our reach outside of the U.S. and connect to the global community," he said. 
KCAI Gallery Director Michael Schonhoff, who helped facilitate the pop-up along with Aldo Bacchetta, Senior Director of Creative Technology, and Chadwick Brooks, Director of Events and Membership, was inspired to see the students activate the space and invite stakeholders to participate in the process. "The Gallery felt like an active lab space. The ideation of the aspirations was powerful, and the ways students captured the feedback from community voices were impressive. I started to see the future of the college in common themes," he said.  
Interactive strategic planning in KCAI Gallery
Projected world map of potential future residencies and educational partnerships
Colorful ribbon installed in the space
Participant notes on what makes them feel welcomed
Student polaroids in the "playful" space
Vision statement brainstorming
Student Participants
Madeline Farinas De Leon ('25 Fiber & Creative Writing)
Cherline Philogene ('25 Fiber)
Nick Sparger ('23 Filmmaking)
Aleta Larkin ('26 Fiber)
Bee Funk ('26 Sculpture)
Carter Weilert (Foundation) 
Egil Enriquez-Gudiel ('24 Graphic Design)
Meranda McDermott ('23 Sculpture)
Jessica Perez ('23 Sculpture)
Jayson Vigors (24 Sculpture)
Afton Shumate ('23 Illustration)
Kaylea Halstead ('23 Animation and Creative Writing)
John Morales ('24 Animation)
Destiny Bruck ('25 Graphic Design)
Joseph Kim ('24 Graphic Design)
Jasmine Rodriquez ('24 Photography
Andrea Soto ('24 Graphic Design & Art History)
Elena Smith ('24 Product Design)
Cortez Hardy ('23 Animation)
An Ha ('26 Sculpture)
Kevin Hopkins III ('23 Painting)
Lula Edwards ('24 Ceramics)